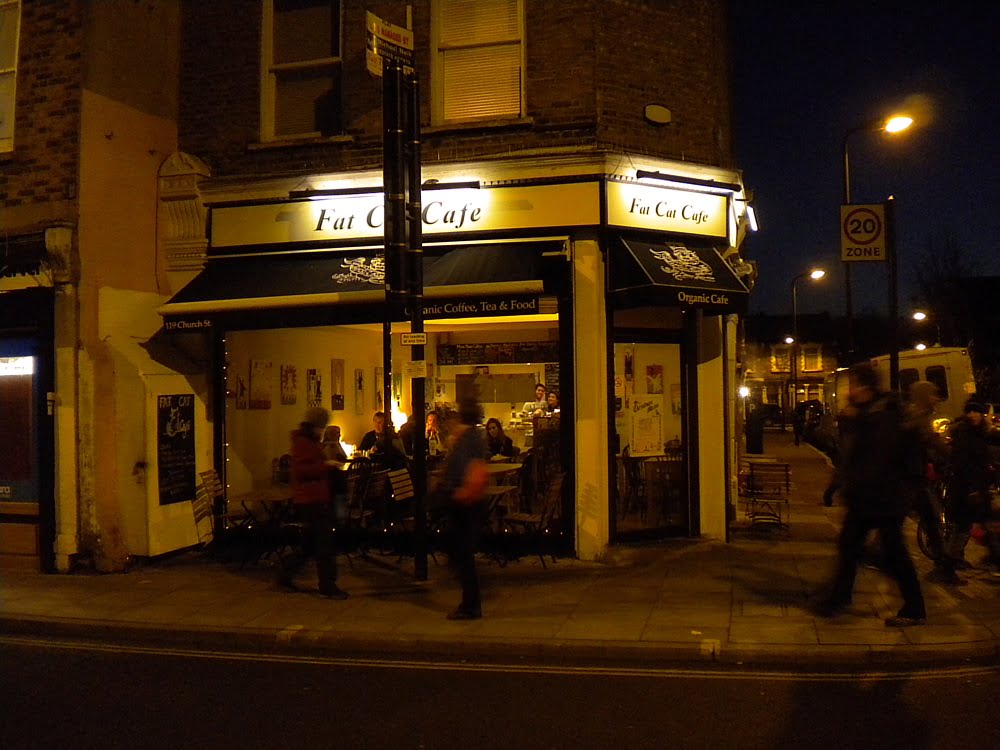 Avrei voluto scrivere questo post prima di Natale, poi sono arrivato in Italia, a Vicenza, a casa, e sono stato sopraffatto dal calore della famiglia e degli amici, e la scrittura di quello che rimane un passatempo è andata in secondo piano (che poi i miei 25 lettori, voi, sono grossomodo gli stessi del calore di sopra).
Accompagno queste poche righe scritte nel tepore di casa, bevendo il the caldo del papà, con le foto di Londra festosa in addobbi e luci natalizi, approfittando della gabola che qui ancora è festa mentre nel Regno Unito non si festeggia l'epifania (ieri tutto è tornato alla normalità, io tornerò a Londra lunedì prossimo, e al Fat Cat martedì 10).
Nelle foto:
1: Fat Cat illuminato a festa;
2 e 3: albero di Natale minimal, ecologico e austero, fatto da me con il cartone della scatola del caffè (idea copiata dalla Tate Modern);
4 e 5: decori alla lavagna natalizi fatti da me;
6: luci di Natale ad Harrods (foto scattata con Filippo il 5 novembre!!);
7 e 8: Covent Garden a festa;
9: South Bank;
10: Houses of Parliament (viste dalla South Bank);
11: Royal Opera House;
12: albero di Natale fatto con elastici nell'atrio del Victoria and Albert Museum;
13: pista di pattinaggio vicino a V&A Museum;
14 e 15: luci ad Oxfor Street;
16: luci a Chelsea;
17 e 18: Saatchi Gallery;
19 e 20: albero maestoso di Lego (meraviglioso!) alla stazione di St. Pancreas (foto da Internet: quando l'ho visto non avevo macchinetta).